Red

Zone – San Francisco

This 1-day intensive group QB training camp is for the developing quarterback from 3rd to 12th grade.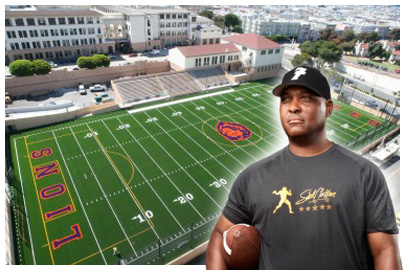 Steve Clarkson and his staff will be making their way to the Northern California! The Redzone quarterback camp will be held in San Francisco, California. Coach Clarkson finds it valuable to meet as many quarterbacks as he can in the offseason, which is why we bring the camps to several big cities from March-July every year. California knows their football and Coach Clarkson is excited to meet all aspiring quarterbacks between the grades of 3rd-12th.
The Redzone San Francisco QB Camp will bring a unique component that will resemble game time quick decisions and situations. Designed by Coach Clarkson himself and unlike most camps with a lot of basic drills, Redzone camp will expect most quarterbacks to have already received some formal training. This will provides each quarterback attending the opportunity to learn the same schematics used at the highest level of football. All quarterbacks willing to put in the work are welcome to join us!
The Steve Clarkson Redzone: San Francisco, California Quarterback Camp will be held at the great Galileo High School July 15th, 2017
Event Details
Redzone training is over the course of 1 day
Total Number of hours: 5 hours
Each player will receive training shorts and shirt
We guarantee small group numbers and a low coach/player ratio
Grades 3rd-12th welcome to attend
Cost of event: $600

Limited Time Special: $400

Payment plan accepted for a small additional fee
Phone: 1-626-826-7400

Redzone youth quarterback training camp is no ordinary event. Created by Coach Steve Clarkson himself, the objective is to provide a high impact up tempo version of how the quarterback position is played at the next level.  Unlike most camps that feature a lot of basic youth quarterback drills, we will focus on the assumption that each client have in most cases received some formal training. This is why we created this unique opportunity to learn the same schematics used at the highest levels of football. In fact many of our trendsetters and tomorrows top QB prospects and current Qb's for the Nations premier D1 football programs started in the redzone youth quarterback camp.  This camp is for all who are willing to put in the work and is a true indicator of a quarterbacks' ability.
Photos from our Camps
Check Out These Other Camps!