Quarterback Guru
Where To Get Tips & Techniques From The Best QB Coaches
If you're searching for a quarterback guru, then you probably already know how important it is for young quarterbacks to receive the proper instruction for their position.
Players who want to go on to greatness in college and the NFL – or simply help their teams win more games –
must have the proper QB foundation created through a Quarterback Guru
. That means having an extensive knowledge of quarterback mechanics, practicing the right quarterback drills and mastering every aspect of the position. All of which can be accomplished through an effective Quarterback Camp.
Unfortunately, most youth and high school football players never receive this level of instruction.
Here's why – and what it could mean for you: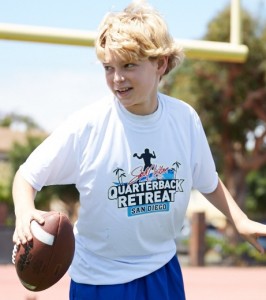 Youth football leagues and high school teams do not have the resources to work one-on-one with their quarterbacks.
Your average coach may know the basics of the QB position, but if the player is serious about a career in the game, then he needs to receive additional training.
Improper instruction taught by youth coaches leads to unnecessary mistakes on the field.
Repeated mistakes will hurt the player's chances of being found by scouts, as well as hurt their team's chances of winning.
Young quarterbacks can also risk injuring themselves if they're not practicing the right drills or using their arms and legs correctly.
These are just a few of the reasons why it's crucial that young QBs receive help from a skilled quarterback guru who can guide them in the right direction.
As you'll see below, working with a quarterback guru not only enhances a player's skills tremendously, but can also guide him toward a successful football career.
What Is A Real Quarterback Guru?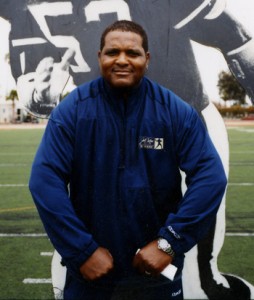 Many football coaches may claim to be a "quarterback guru," but actually very few have the knowledge, experience, accolades or effective teaching style to be regarded as gurus.
A guru is a true master – a top-rated and renowned coach who possesses a deep understanding of the quarterback position. This type of coach knows the ins and outs of the position, what's required of players and, most importantly, how to help those players significantly improve their ability.
Knowing what makes a great quarterback is only one aspect. To be a guru, a coach must be exceptionally skilled at transferring his own knowledge to the players he's instructing. In other words: a guru's success can't be measured merely by his own abilities, but instead by the success of his students.
That is what separates a quarterback guru from an ordinary coach.
Why Work With A Quarterback Guru?
Getting help from a quarterback guru has numerous benefits – especially for QBs who want to win more games and do everything they can to set themselves up for a future career in the NFL or in college.
Even young QBs who are just preparing for high school can experience a significant boost in their skill level.
If you have an aspiring player who wants to learn from the best, here are some reasons to get help from a professional coach.
➨ Lacking high school programs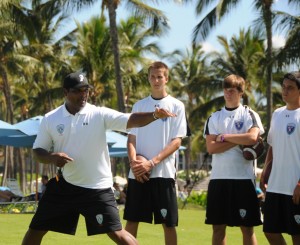 As mentioned above, most players simply won't receive the individualized quarterback training they need while in high school or youth football programs. If a player wants to master the QB position, he'll need to get that level of instruction somewhere else.
➨ Proper mechanics
Succeeding in the QB position is all about having the right mechanics – footwork, defensive maneuvers, passing, rushing and more. The way a quarterback moves his body plays a central role in how he performs during each and every play. A quarterback guru will help a player master these movements and develop a better sense of timing.
➨ Focused drills
Quarterbacks must devote a sizable portion of practice time to drills that are focused exclusively on the QB role. Simply practicing the team plays isn't enough. A QB guru uses effective drills and workouts that are proven to help build strength, build endurance, increase accuracy, improve timing and develop the right mechanics.
➨ Chemistry with receivers & the team
You could be the best quarterback in the country, but if you don't have chemistry with your team or your receivers, then you'll never achieve greatness. The best coaches can teach players to become better leaders and communicators on and off the field, so that everyone wins.
➨ Future potential
The nation's most talented QB prospects need to set the right expectations about the recruitment process and all the pressure they may experience from coaches, family, scouts and the media. A top quarterback coach helps players understand this process and teaches them how to act professionally in every situation, despite all the scrutiny.
Learn From The Top Quarterback Guru In Football
Named by ESPN as "the most powerful football coach in football," Steve Clarkson is a renowned quarterback guru who has had outstanding success as a private coach and tutor for some of the finest quarterbacks at the professional, college and high school levels.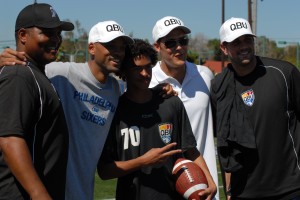 Steve Clarkson's Dreammaker offers focused QB camps that give aspiring quarterbacks the chance to learn from Steve and his team of professional coaches. Every player receives rigorous, position-specific mental and mechanical training, on and off the field, giving them the opportunity to build upon their football foundation and significantly improve their quarterback skills.
In addition to position-specific training, athletes and their families will receive a high-level recruiting education seminar. Plus, Steve Clarkson's camps often receive significant media exposure, putting attendees in the national spotlight.
Read more about our Quarterback Retreat and Field Generals QB camps to find the right training for your player, or contact us for more information.