Quarterback Camps
Good coaching at a renowned QB camp can do wonders for a player who is looking to take his skills to the next level.
Of course, not all QB camps are the same. As a coach, parent or a player yourself, you need to make sure you choose a camp that offers first-rate instruction from professional coaches who know the position inside and out. Regardless of your current ability, your home team's record, or your long-term plans for a career in the sport, enrolling in a football camp for quarterbacks has several unique advantages.
Steve Clarkson Dreammaker offers multiple phases of QB camps across the country.  Redzone, Field General and the peak performance QB Retreat.  These camps give rising stars the skills and drill to perform at the highest level under pressure.  Steve and his team also provide small group and private QB training for those prepping for pro-days or looking for a one on one approach. Here we explain what each QB can expect at each type of camp, where they can attend and how each camp is designed to help developing quarterbacks prepare for the next level.
Redzone Youth & High School Camps 
This 1-day intensive group QB training camp is for the developing quarterback from 3rd to 12th grade. Quarterbacks should have prior training and will learn how to run a pro style offense, install efficient mechanics and learn drills that they can continue using to prepare to lead their youth or high school team or impress college scouts. They will work with the nations top quarterback coaches and with Steve himself and gain exposure to opportunities to show off and improve their level of QB play.
Redzone: Philadelphia, Pa Qb Camp
Redzone: Austin, TX Qb Camp
Redzone: Atlanta, GA Qb Camp
Redzone: San Francisco, CA Qb Camp
At the Field Generals quarterback camp held in Los Angeles every January, Steve and his team of experienced high level coaches provide 8 hours of training spread over a two day period. They prepare both developing quarterbacks and some of the top signal callers on the college scouting scene with schemes, drills for QB mechanics, skills and decision making. This is a smaller size camp that allows for more personal one on one training with our top coaches.
The qb retreat is the most prestigious qb training camp in the world and is specifically designed to prepare the countries top signal callers for high level play in D1. It is open to 3rd to 12th grade and is been attended by many of the QB trendsetters. We have helped develop some of todays top NFL quarterbacks at the retreat and many past attendees are currently starting at high level D1 because of the training and personal preparation gained in this 2-day camp. In fact we have had our Quarterback Retreat attendees sign commitments to D1 schools like USC at as early as the 6th grade.
What a Young QB Should expect from a QB Camp?
Improve your skill level.
Do you want to vastly improve your gameplay to help your team win more games and breathe new life into your personal stats? Are you confident you have the talent, but aren't sure if you're using it correctly or learning the best techniques?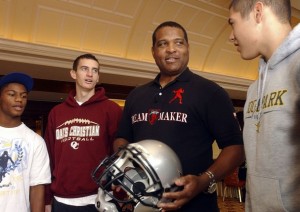 This is where a quarterback camp can help tremendously. First and foremost, QB camps are designed help QBs enhance their skills, techniques, timing and chemistry with receivers. From their passing game to rushing and more, a good camp will cover all aspects of the position to help players achieve the greatest results.
Gain additional practice during the off season.
As the old saying goes, practice makes perfect – and in football, this statement absolutely applies. A key benefit of a quarterback camp is that it enables players to continue honing their skills during the off season – instead of resting on their laurels.
Repeated QB drills and practice can absolutely make a measurable difference in a player's performance. Paired with expert instruction from experienced coaches, this extra practice is what separates average players from the elite.
In most high schools, the coaches are just ordinary school teachers who don't have any professional experience in the sport. Some are incredibly good at what they do, but many simply have never learned the plays and strategies needed to win games.
Learn techniques that the high school coaches aren't teaching.
A good quarterback camp is run by instructors who have played and coached in the NFL, at top colleges and in independent leagues. They have professional experience on the field, so they know what it takes for QBs to play at the top of their game. This type of instruction is invaluable to any young player and will be found at any of the Dreammaker camps.
Get position-specific instruction.
While general football camps can be good for all players, quarterbacks will receive the most benefits if the instruction is focused specifically on their position.
An elite QB camp uses drills and training that are dedicated solely to the quarterback position. This allows players to make the most of their time and gain skills that will ultimately help everyone on the team. This is especially beneficial to star quarterbacks who want to learn from the best in the sport.
Prepare for the recruitment process.
Talented players need to be ready for the attention they'll receive from college and pro scouts. A good quarterback camp helps players understand what to expect from the recruitment process, how it works, and what they can do to stand out.
While attending any camp is advantageous, We prepare younger players for high school and want to know how to make an impression on the coaches from day 1 and high school players who are looking for the attention of D1 Qb scouts.
Choosing a QB Camp
As we mentioned above, not all camps offer the same quality of training. So it's best to do your homework and make your decision wisely. By taking the time to find an elite camp, you can be sure that the player will see the greatest results.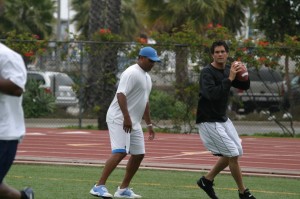 Here's what to look for…
Experienced coaches:
Ideally, the coaches should have professional experience as former players and coaches in the NFL and top college teams.
A widely recognized program:
Look for camps that have been widely recognized by national media as being the best in the industry.
Recognizable alumni:
The best camps will have former attendees who went on to successful careers in the game.
Recruitment education:
Players with promising futures should be taught how to prepare for recruiting, and how to carry themselves professionally on and off the field.
National attention:
The nation's most elite QB camps, like those from Steve Clarkson Dreammaker, are often featured in Sports Illustrated, ESPN, HBO, Men's Journal, and other media outlets. This gives attendees the opportunity to be unveiled on a national stage – something that small hometown camps cannot do.
PRESTIGIOUS CAMPS FOR YOUTH & HIGH SCHOOL QUARTERBACKS
Steve Clarkson Dreammaker holds the most prestigious QB events that a quarterback can be a part of.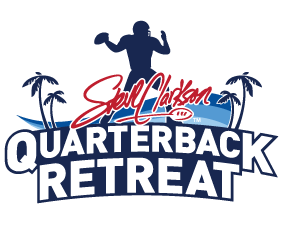 Based out of Southern California and expanding across the country, our Dreammaker Quarterback Camps enable players and their families to build upon their football foundation and receive hands-on training from the pros.
All camps are led by head instructor Steve Clarkson, who has been called the "most powerful QB coach in football" by ESPN. Today, Clarkson helps youth and high school QBs discover their full potential through the best training programs in the industry.
Our events are regularly featured in the top sports media, helping players gain national exposure while dramatically enhancing their ability. Our attendees fly in from all over the country to learn from Steve Clarkson and his elite team of coaches.