Private quarterback coaches can vastly improve a young QB's ability – but as a parent, you must compare your options carefully.In your local area alone, there may be dozens of Quarterback Camps and Quarterback Coaches who offer private instruction to youth football players. But that doesn't mean that your child will benefit from their training.
Not all coaches offer the same quality of instruction. And there are several risks to hiring someone who doesn't have a solid understanding of the QB position. Aside from being a complete waste of time and money, poor instruction could actually HURT your child's skills instead of improve them. And if the coach uses improper drills and workouts, then the player could even injure himself.
This is why it's so important to use caution when looking for private quarterback coaches and to make sure you hire the best.
What To Look For In Private Quarterback Coaches
➨ Significant, verifiable experience
When it comes to private quarterback coaches, experience is everything. You must look for a coach who not only played as a quarterback but also has extensive experience as a coach (ideally on a professional level). Look for someone who has a proven track record and a deep understanding of the QB position.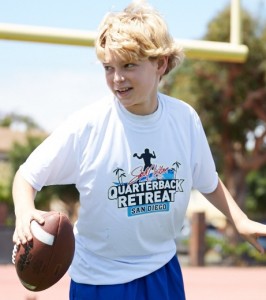 ➨ Quarterback-specific instruction
Be cautious of enrolling in general football training camps and other summer programs if you're serious about helping your child excel in the role of quarterback. Look for instructors that provide training that is specific to the QB position (or QBs and wide receivers, for example).
➨ A complete training program
Instead of hiring a single private coach for your child, look for coaches that offer their instruction as part of a complete training program for quarterbacks. This gives the player more opportunities to learn from other coaching staff and other players.
➨ Focused drills
Good QB drills and workouts can improve a player's talents tremendously – but they must be integrated into a more comprehensive training program. Look for private training camps that use drills to help QBs improve their throwing strength, accuracy, speed, footwork and mechanics, among other factors.
➨ Successful alumni
One great way to measure the success of a QB coach (Related News) is to look at the players he's coached. What outcome did the training have on those players' seasons? How far did those players go in their football careers? Has the coach helped any of them go on to a successful career?
Get Elite Training From One of The Top Private Quarterback Coaches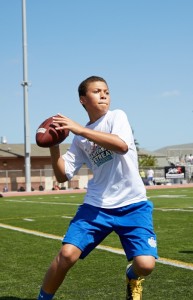 Named by ESPN as "the most powerful quarterback coach in football," Steve Clarkson provides comprehensive training to aspiring youth quarterbacks from around the nation. The Steve Clarkson Dreammaker program, which offers elite training camps for youth, high school, college and pro quarterbacks, has been prominently featured in numerous national media, including CBS 60 Minutes, The New Yorker, USA Today, HBO Sports and others.
Clarkson's long list of successful alumni include some of the biggest names in the game, including Ben Roethlisberger, Terrell Pryor, Matt Leinart, Matt Barkley, Josh Freeman, Matt Cassel, Tim Tebow and Jimmy Clausen.
Sign up today for Steve Clarkson's next quarterback camp or contact us to learn more about how your QB can significantly increase his skills from our elite training programs.