Choosing the Best Quarterback Coach
A good quarterback coach can help an aspiring player improve his skills dramatically – but it's crucial that you work with the right person.
If you're in the process of searching for quarterback coaches, then you probably have a player who is already displaying talent but could be even better with the right instruction. Partnering with an inexperienced QB coach could actually be very detrimental to the player's ability. This is why finding the best quarterback camp is so important!
Dangers of choosing an inexperienced coach: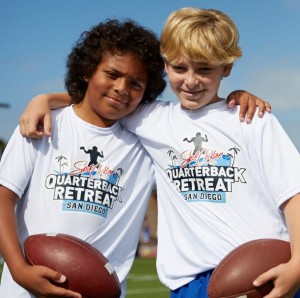 Improper instruction could lead to unnecessary mistakes on the field.

Wrong throwing techniques and body movements could put the player at risk of serious injury.

Incorrect education could hurt the player's sense of timing and chemistry with other players – when it matters most.

The instructor won't have enough training about the professional recruitment process or how to prepare the player for high school or college play.

You could end up wasting your money completely on a private coach that does little for the player's skills.
It doesn't have to be this way.
With so many resources available, it's easy to find the best quarterback coaches in football. And that's exactly what it's going to take for a player to truly enhance his ability, whether he's one of the nation's most highly touted prospects, or just a youth player who wants to help his team win.
Below, you'll find several simple tips that will help you narrow your options and find the right instructor.

Quarterback Drills


QUARTERBACK COACH COMPARISON TIPS

Check their experience.

Has the quarterback coach played on a professional level, in college or in the NFL? How long has he been coaching? Has he coached on any pro teams? What is his experience working with youths or high school players?
Experience is perhaps the most important factor in determining the quality of instruction that the player will receive. So make sure to look carefully at credentials before you make your final decision.

Ask about the specific types of drills and techniques that will be taught.

Quarterback drills should be a key part of the player's training, but not all drills are the same. Ask the coach or his staff what types of drills are performed and exactly what the benefits are.
If you get vague answers, or it sounds like the drills are just basic calisthenics (rather than specific QB instruction), then the coach may not be the right option.

Think twice before working with local, part-time coaches.

It's increasingly common for former high school coaches to offer private instruction to youth QBs. But just because someone coached your hometown team doesn't mean they'll be able to help the player unlock his true potential.
If you're going to invest in hiring a coach (and in the player's future), then you'll get the greatest value by working with professionals who coach QBs for a living.

See what others are saying.

Testimonials, reviews and the names of successful alumni are all good ways to judge the quality of quarterback coaching. Have previous players who worked with the coach gone on to successful careers? What do parents and school coaches of those players say about the instructor?
Ask around to see what you can find out from others who have worked with the coach before. If the instructor is regarded as one of the best, then you'll know it pretty quickly. Conversely, if you can't find anything about the instructor, then you should probably look for someone else.


Quarterback Training


WHY WORK WITH A QUARTERBACK COACH AT ALL?
There are numerous benefits to working with a skilled instructor who has extensive experience coaching quarterbacks: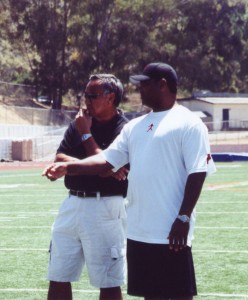 They can help QBs improve not only their own gameplay, but their chemistry with the entire team.

They help players to become better leaders and communicators on and off the field.

They assist quarterbacks in unleashing their full talent with drills and techniques that are taught in the pros.

They can help a player shine on the field to improve the chances of being noticed by future college coaches and scouts.

They provide valuable instruction based on real-world experience as professional players and coaches on winning teams.

They know the best tactics and techniques for improving throwing skills, footwork, timing, and every other aspect of the position.

They can educate players on what to expect, not just on the field, but also in terms of the pressure and scrutiny that comes with being the best.
Quarterback Camps


"THE MOST POWERFUL QB COACH IN FOOTBALL" -ESPN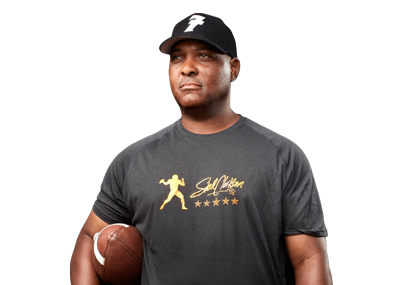 If you're looking for a professional quarterback coach to help a young player significantly improve his abilities, Steve Clarkson Dreammaker offers several powerful camps that can help.
Named "the most powerful QB coach in football" by ESPN, Steve Clarkson is widely regarded as one of the foremost authorities on the quarterback position. His elite quarterback camps, based out of Southern California, are attended by aspiring players from all over the United States. Our athletes include tomorrow's biggest stars, as well as youth athletes who simply want to be better for their teams back home.
Coach Clarkson and his football camps have been consistently recognized as the best of their kind in top sports media outlets, including ESPN, Sports Illustrated, HBO Sports, the NFL Network and others. His lengthy list of alumni includes names like Ben Roethlisberger, Matt Cassel, Matt Leinart, Jimmy Clausen, Josh Freeman, Jake Locker, and Matt Barkley.
See Top QB Prospects

